Social Network Mafia

The game where everybody's a loser
Game information
Host
Aaryan and Hidden Z
Link
Game thread: Social Network Mafia BTSC threads
Size
17 Players (Large)
Start Date
November 26, 2012
Winning Faction

Baddies

&

The Liker

Roster
Players

First to Die
Akriti
Last Remaining
Fat Tony
MVP
Andrew
Awards
-
Social Network Mafia was a game designed and hosted by Aaryan (and co-hosted by Hidden Z based on his own idea.
It began on November 26, 2012 and ended in a Baddies & The Liker win in N7 (December 11).
Game Mechanics
Edit
Tie = Random person in tie is lynched.
(Save)>>Evil Kill>>Redirect>Block>RID Kill>Self-Sacrifice Save>Save>Trap>>Spy>Anti-block>>Yes/No Question.
For same actions: Indy>Goodie>Baddie
If the Village Idiot(Self-sac. save) saves a kill target and the Philosopher (Reg. Save) saves the Idiot, nobody dies.
No using actions on self unless you are the save or trap. No NK carrier.
Some questions were brought up N1 that I would like to answer.
First, I made it so that blocks target actions, not roles. Therefore, if X blocked Y and Y doesn't have a night action/Didn't use an action, then the block fails.
Other important notes, regarding Indy WinCons:

For the Thief (two specific roles) and the Prophet (2 specific, 1 non-specific) and the Liker (1 specific), three roles with specific WinCon targets, if they do not kill their target, their target changes, in this way:
Liker: Philosopher down (Philosopher, Texter, Drama Queen, Hyena, Village Idiot)
Prophet: Drama Queen Up (DQ, Texter, Philosopher, Cameraman, etc. till Gamer) and Lurker Down (Lurker, Popular, Nazi, Cynic)
Thief: Cynic up (Cynic, Nazi, Popular, Lurker) and Newsman Down (Newsman, Cameraman, Philosopher, Texter, etc. till Idiot)
Indies will be notified when one of their current targets is dead.

(E.g. if the Cynic dies N3 before the Thief can RID him, the Thief is notifed that the Cynic was dead. Now, if the Nazi happened to have died previously, say, N2, then the Thief would be told that both the Cynic and Nazi are dead, and his target would be Mr. Popular).
Role Description
Edit
The Evil - BTSC and NK. WinCon: Majority
The Lurker - Never says ANYTHING but is somehow always there. (Role Spy)
Mr. Popular - Has 4,367 friends for absolutely no reason. However, since he is so popular he has voting power ( x0,x1, or x2 vote)
The Grammar Nazi - Uses force to bring your vocabulary up to scratch (Block)
The Cynic - Hates life in general. His mood ranges from "bad" to "murder". Therefore, his action varies, (Die Roll; 1 - Follow Spy, 2 - Redirect, 3 - Vote Redirect, 4 - Trap, 5 - RID Kill, 6 - No Action.
The Annoying - WinCon: Baddies and Indies dead
The Gamer - Plays every game known to man and just HAS to share it with us all. His massive collection of virtual coins somehow will give someone a boost (Anti-block)
The Diary - Uses the network as their day-to-day journal. Will bore someone with their life story till dawn, when it's too late to act (Block)
The Newsman - Feels compelled to tell everyone everything that happened in politics/pop culture today. He's so well-informed that he has contacts that will hunt you till the end. (RID Kill)
The Cameraman - Only uploads pictures of themselves and other people. But people always mess up in front of the camera...and that's all he needs to figue out your role (Role Spy)
The Philosopher - Posts incredibly thoughtful posts, but it's usually over most peoples' head. However, his brilliancy can mean something special to someone, and it just might help them survive the night (Save)
The Texter - Talks in chatspeak 24/7. Most people have no idea what they have said, but the host does (Can ask 1 yes/no question to host every night)
The Drama Queen - Always posts something like "I'm gonna kill [name]!", trying to get you to ask what's wrong. If someone does, then she's got them held on for a while (Trap)
The Hyena - Apparently doesn't know English, just LOL's and LMAO's. His levity helps calm down the lynch mob (RID Lynch Save)
The Village Idiot - The dumbest of the lot. The knife so dull it should be thrown out of the drawer. He does serve the purpose of a diversion quite well (RID Self-Sacrifice Save)
Indies
The Liker - WinCon: RID the Philosopher and 2 Indies - Nobody really knows what his motives are, but he considers himself a threat. (RID Block )
The Inviter - WinCon: "Invite" 2 Baddies, 1 Goodie and 1 Indy - He wants to invite certain people to his events (RID Redirect to "invite" somewhere)
The Prophet - WinCon: Kill the Drama Queen, the Lurker and an Indy - Every post has a reference to God. Believes that THE ALMIGHTY WILL STRIKE YOU DOWN!!! (RID Kill)
The Thief - WinCon: "Steal" the status of The Cynic and The Newsman - Steals your statuses every time. (RID Role mimic, called a "steal")
Host's Summary
Edit
Game Idea and Expectations
Edit
Special commendations
Edit
Host disappointments
Edit
Alternate endings
Edit
Winning Faction
Edit
Andrew - Liker

- Won N6 and left game

Plasmid - Mr. Popular

mew - Grammar Nazi

FatTony - Cynic

Prince Marth - Lurker
Day and Night Posts
Edit
Game Start Prologue N1 D1 N2 D2 N3 D3 N4 D4 N5 D5 N6 D6 N7
Night 1: The [Facebook] Game's Afoot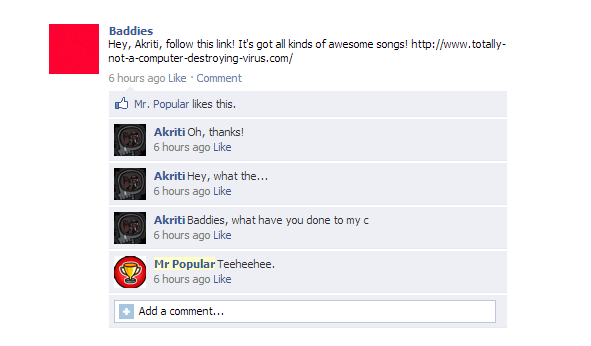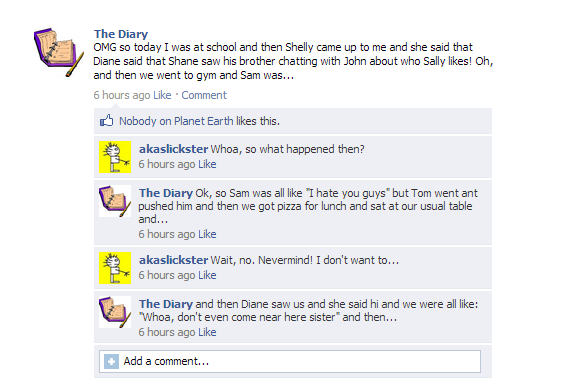 Day 1: I Think, Therefore I'm Dead
he networkers all got on their laptops to vote. The sound of keyboards clicking could no doubt be heard across the Earth as they chose who they would...unfriend.
Eventually they reached a consensus. One was to leave the circle forever.
One by one, they went to their friend's list. They opened up the profile of the unfortunate victim. akaslickster begged them not to do it. He pleaded, used historical references to back up his claims of innocence. But it was too late; the deed was done. The circle had unfriended him. Slick was locked out, never to be heard from again.
"Thank God," said one of the networkers via chat. "We'll never have to listen to his stupid logic puzzles again, and he won't be able to ask me about trees falling in the woods. I hated that guy."
The Philosopher, sat in his room, dejected. He went outside, for the first time in eight weeks, got a coffee, and decided that maybe enrolling in that philosophy class might not be such a bad idea after all. And as such, one poor soul was freed from the clutches of the Internet.
Phaze also woke up and freed himself from the Drama Queen.
Night 2: Password Protec-dead
Let me reiterate the fact that blocks and traps are effective on ACTIONS, not people. Therefore, an action that was failing anyway (incorrect RID, incorrect save, etc.) would not be affected. This is drasically different from the regular ideals, as I now know. However, upon re-reading the policy it doesn't seem too bad if mentioned at the beginning (which I, unfortunately, neglected to do). Probably I will introduce it as an alternative to OOP/OOA. Sorry guys.
I mentioned a complex night post. Doesn't seem like it but there was a lot of cancelling out in the background.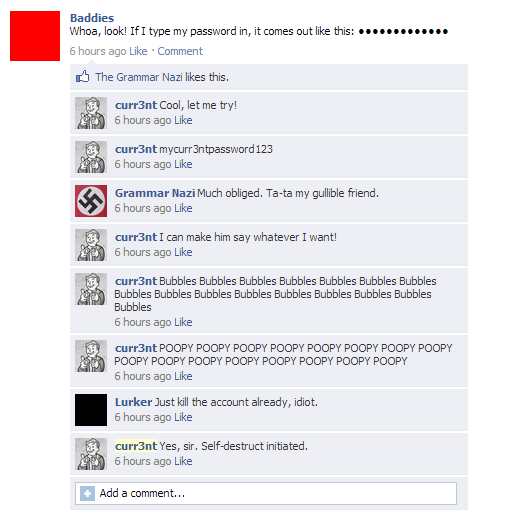 Day 2
An interesting night, to be sure. 'Twas a tie vote. Phaze was chosen. The Hyena RID saved him as the Village Idiot.
Night 3: So Kill me Maybe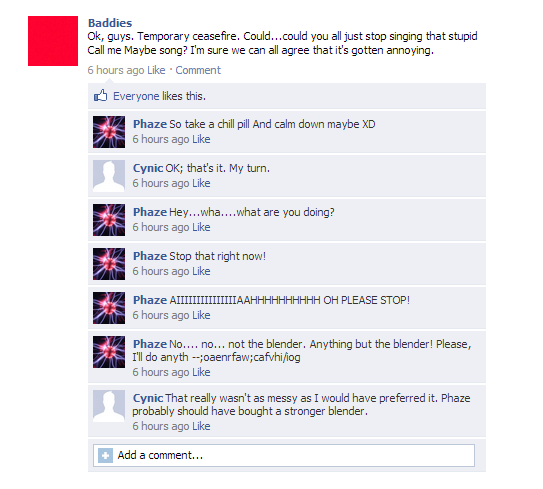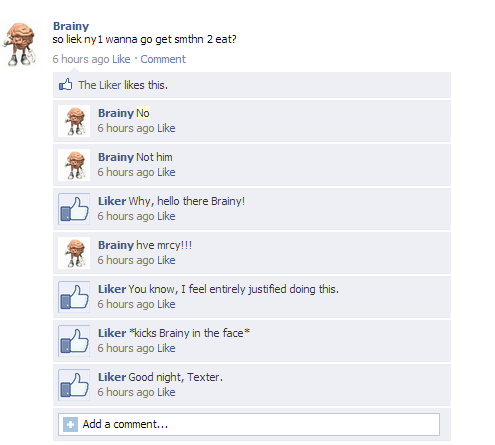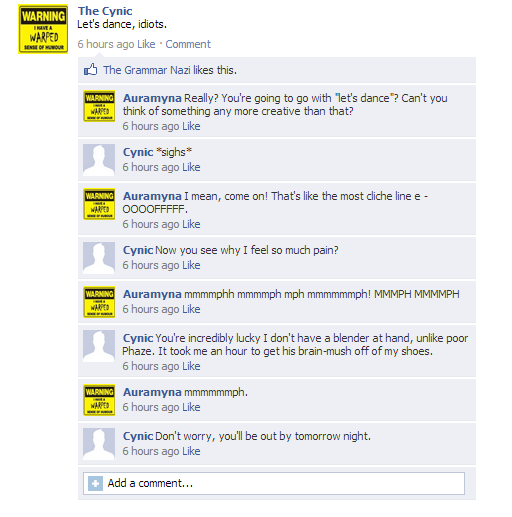 Day 3: A Lovable Lad down on his Luck
Once more, the Networkers ad a group chat of who they would unfriend next. They thought and they thought and then one bold voter simply said "Plasmid". All webcam eyes turned to plasmid.
Plasmid laughed."Really? You guys want to try that? You bring me down, you bring down an entire Network infrastructure. Do you really want that on your heads. At that everyone shrugged and realized what Plasmid meant. And then the same bold Networker simply realized: "You know, I really don't care.
Other took up the call. Plasmid got nervous. "Ok, tough guys. With one click of my mouse, I can cause grievous harm to you through my...associates."
They did not heed him. Plasmid smirked. "Alright then." He clicked his mouse, then screeched. "No...no! I meant Call to Arms, not Delete Account! Noooooooooooo..." and faded away.
Mr Popular was gone.
Night 4: Getting RID of the competition
Recap:
Baddies Kill GM.
Baddies Block Marq
Baddies RID Kill Aura as Hyena
The Liker RID Blocks gj as the Inviter.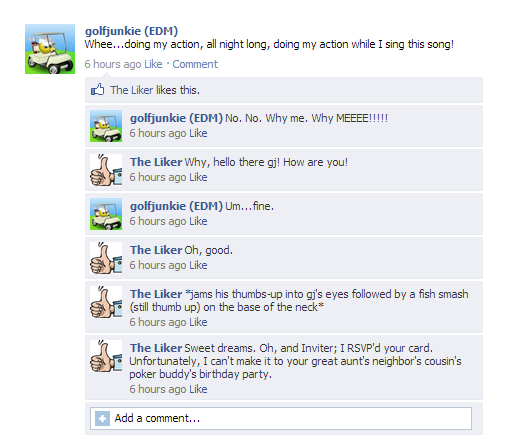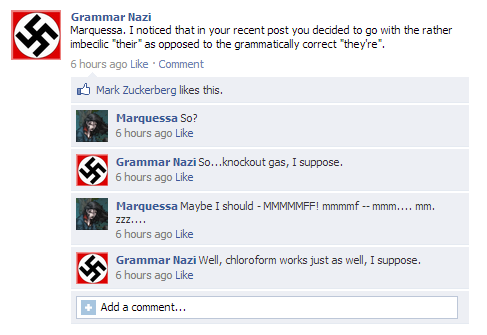 Day 4: What'd you expect?
The networkers gathered once more. They opened up a chat server and, almost immediately, golfjunkie was a candidate for elimination. After all, they reasoned, better a confirmed Indy that possibly a goodie.
gj sighed. "I'll let myself out." So saying, he swung one of his trusty golf clubs at his computer and that was that. Nobody, he thought,nobody is allowed at Uncle Algie's cardiologist's funeral.
Night 5
Sorry, guys. Due to some prior obligations I haven't and will not have time to sit down and write a Night Post. I'll probably come back sometime tomorrow to fix it, but here's the overview.
Brainy was NK'd
Thalia was blocked by the Diary
Framm was blocked by the Grammar Nazi
Day 5: You can run, but you can't hide
Another day, another death. The Networkers were getting bored. They decided that this time would be a game of Russian Roulette. First Andrew went. Closing his eyes, he hit the random number generator; if his number was zero, out goes the virus. To his relief, he got a 4. Then Fat Tony went. His number was 7. Then was Prince_Marth's turn. He hit the button confidently. Nothing was going to happen!
And then the generator showed 0, and the virus was out. Marth screamed as his computer short-circuited. No more Lurking from him.
Night 6
Sorry, once again no time for NP. Just too time-consuming. Just outlining actions.
Thalia is dead
The Liker RID Blocked Framm as the Thief (though Framm's action failed anyway)
The Prophet RID Killed mew as the Grammar Nazi
Congrats to Andrew for winning as the Liker.
Day 6: When lightning strikes
The final for Networkers squared off. Who was the Indy? Who was the Baddie? However, they soon elected Vommack to be the meal of the day. Vommack eyed them coolly. "You think you can destroy me so easily, eh?"
The other shrugged and approached him. Vommack sighed. "I have a being of unlimited power on my side. You have the Internet."
Framm shrugged. "That sounds like an even matchup." Vommack, seeing that he wasn't getting any slack, fled outside of his house. Unfortunately, it was the middle of a heavy thunderstorm. In a flash of light, all that was left of Vommack the Prophet would easily scatter in the winds. FT whistled. "Will of God, indeed."
Night 7: Final Stand
The final three decided that they would have a face-to-face meeting, just for the novelty of it.
Immediately they opened up Skype.
Fat Tony waved. Marq grinned. Framm was silent.
"So..." began Marq, "looks like the game's about over."
"Indeed it is," said Framm.
"Now we just wait for the Baddie Kill," said Fat Tony. "Oh, and while we're waiting, Marq, can you just step into your kitchen for a second?" Marq, a little confused, obliged. Fat Tony typed in a long string of coding.
"Now, can you just look in that appliance over there? I think there's something in there." Marq did so. She stuck her head in the said appliance, and Fat Tony hit Enter. The blender came to life, and Marquessa might have enjoyed her Type-A-Blood smoothie had she a mouth left to drink.
Fat Cynic smirked and turned to Framm. "My friend, while I will always admire your abilties as a Thief, I have no choice but to kill you." FT once again hit enter and Framm's computer fell to the ground.
Framm was shocked. "Wait, how's that even happening?" The laptop had fallen apart and was coming back together. Framm tried to scoot back, but he was too late. THe metal pieces re-formed, the plastic formed a makeshift cup, and the power cord auto-plugged into the socket. Framm shook his head. "Of course. Death by computer-turned blender." Fat Tony beamed in glee as Framm's leg-mush hit the wall.
The Cynic had done it. He had won for his...minions. Only coming in second to that pesky Liker. But that was OK.
---
The Liker Wins
Baddies come a close 1.5th/2nd!
End of Game Roster
Edit
Gods of the Network: Aaryan and Hidden Z
curr3nt - Drama Queen

- Killed N2 by the

Evil

GolfJunkie (EDM) - Inviter

- Lynched D4

Plasmid - Mr. Popular

- Lynched D3

Slick - Philosopher

- Lynched D1

Marquess - Diary

- Killed N7 by the

Evil

mew - Grammar Nazi

- RID Killed N6 by the

Prohpet

Vommack - Prophet

- Lynched D6

Brainiac100 - Texter

- Killed N5 by the

Evil

Thalia - Gamer

- Killed N6 by the

Evil

Aura - Hyena

- RID Killed N4 by the

Cynic

Gmaster - Newsman

- Killed N4 by the

Evil

FatTony - Cynic

Andrew - Liker

- Won N6 and left game

Akriti - Cameraman

- Killed N1 by the

Evil

Prince Marth - Lurker

- Lynched D5

Framm18 - Thief

- RID Killed N7 by the

Cynic

Phaze - Village Idiot

- Killed N3 by the

Evil
List of actions
EDIT HERE
Community content is available under
CC-BY-SA
unless otherwise noted.